Just finished up this cute shoujo/slice of life anime and I'm here to write a little review of it. This anime is two seasons long and it doesn't look like they are going to go past that, but I was very satisfied with the way it ended. In total, there are 24 episodes. The story is about a young girl named Shirayuki who was born with bright red hair, which, in this anime, is very rare and special (even though there are characters with blue and white hair, but hey). At the start, she is pursued by the prince of her kingdom, Prince Raji, who orders her to be his mistress. Forced with no other choice, she runs away and enters the neighboring kingdom of Clarines. This is where she meets a boy named Zen, who ends up being the second prince of the kingdom. You can probably guess where it goes from there…
I love shoujos. They are my treasure. The light touch of a hand causing an instant blush? A kiss being the climax of the plot? These are things I can't get enough of. Akagami no Shirayuki-hime delivers in full. I caught myself smiling stupidly plenty and I love Zen and Shirayuki as a couple so much. They are both without flaws in my eyes.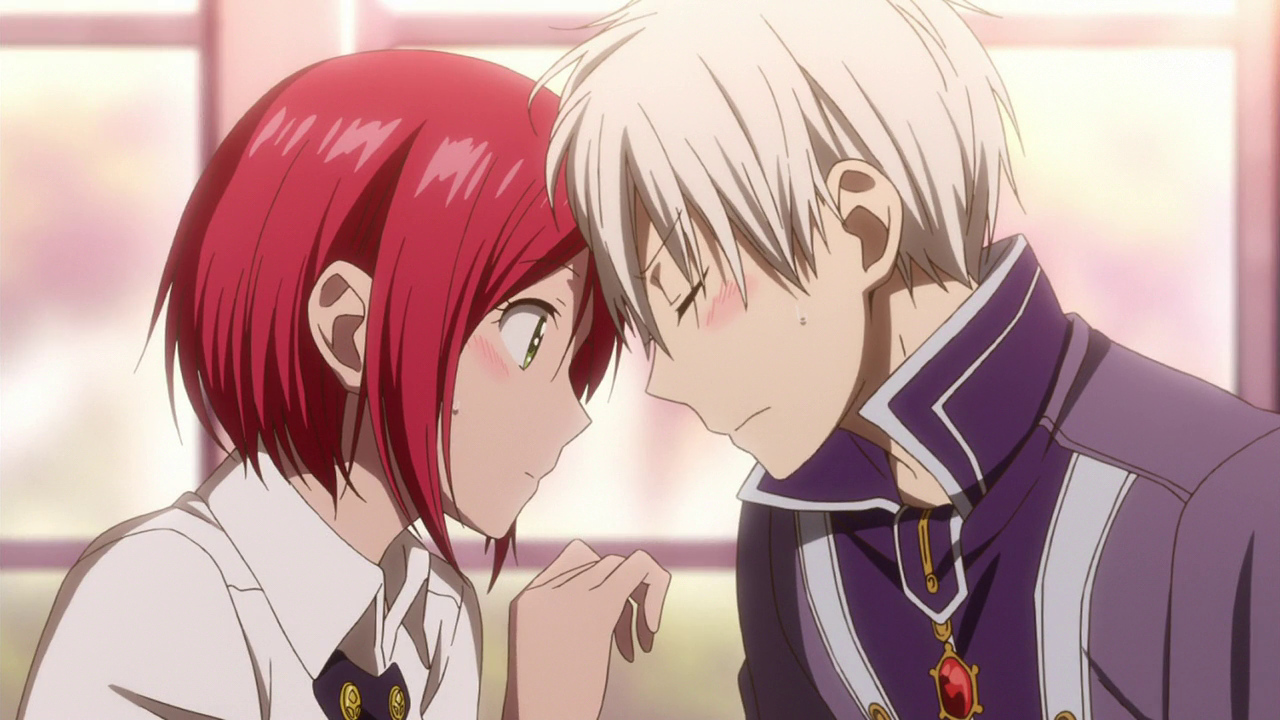 I mean…forehead nuzzles? C'MON!
To boot, there are some very likable side characters. I do wish, though, there had been MORE on-the-side romancing happening but at the same time it was refreshing to not find yet another love triangle situation in a shoujo (as much as I do appreciate a really good one). I found myself wanting a bit more background behind all of the characters, but especially Zen and his family. I really didn't think they delved into it at all.
To sum it up, this is a very light-hearted shoujo that does not have a lot of plot-heavy drama behind it. I think it's very slice-of-life, which some people are not fans of. I do think it's a good anime to unwind with. I watched it in a week. The good news is there is a manga you can read after watching the anime, if you so choose, although I hear it skips ahead a bit and goes back and forth in the anime. You might be re-reading a few scenes, but with scenes like the one above? WHO CARES!
Rating: 4/5